AROUND 8,000 people flocked to Calverley Grounds at the weekend to see a life-sized whale and other aquatic curiosities thanks to the return of the Tunbridge Wells Puppetry Festival
The normally biennial event staged a one-day spectacular on Saturday (October 15) with an under-the-sea theme following support from Royal Tunbridge Wells Together and Tunbridge Wells Borough Council.
The centrepiece of the festival was an 18-metre-long sperm whale where puppet master, Circo Rum Ba Ba presented shows inside 'The Whale' throughout the afternoon.
The whale was also joined by 'Ocho', the giant Octopus and 'Iso' the prehistoric sea creature created by Tim Davies.
Art in the Park ran under-the-sea themed children's workshops at Calverley Grounds and in the Royal Victoria Place shopping centre. The Trinity Youth Theatre also performed alongside pirates, sirens and seahorses.
Last year's festival saw over 15,000 puppetry fans descend on Calverley Grounds to see Luke Jerram's 'Museum of the Moon', the largest outdoor art installation ever seen in Tunbridge Wells, at the time.
This year, over half of the puppets were larger than Jerram's 'Moon' installation which measured seven metres in diameter.
The full Tunbridge Wells Puppetry festival returns for more family fun in 2023.
This article was originally written by Times of Tunbridge Wells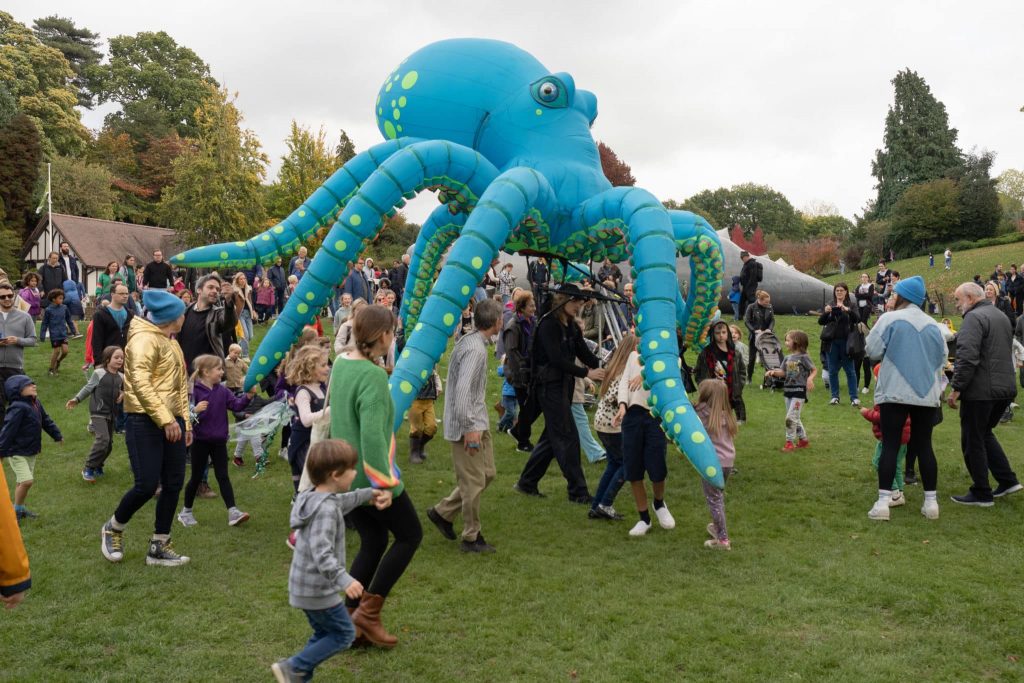 Do take a look at the 2021 festival film below, made for us by our friends award winning Modus Film.
---
Join our mailing list by completing this form to be sent updates on the festival in the future.

Volunteer at the
Tunbridge Wells Puppetry Festival
We rely on support in many different ways to make Tunbridge Wells Puppetry Festival a success. Obviously buying your tickets is crucial but did you know we work with a fabulous team of volunteers? They are a highly valued group of puppetry festival and community enthusiasts who form the backbone to much of our work and we would love you to join them.
If you have the time and would be interested in joining us we would be delighted to hear from you.