About Us
Tunbridge Wells Puppetry Festival
World-Class Entertainment for the Whole Family to Enjoy.
About Us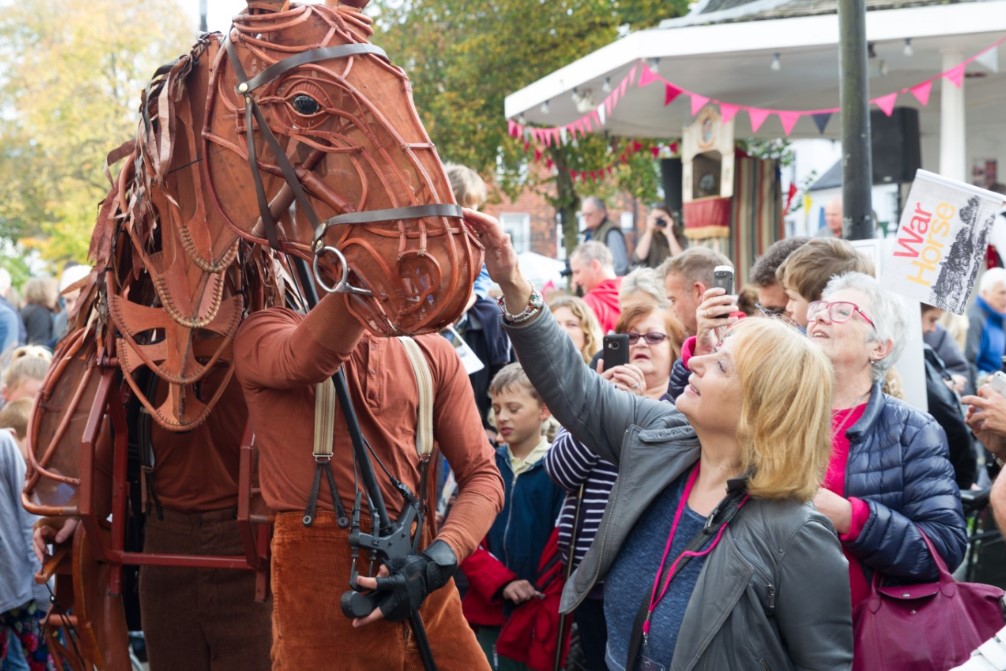 Tunbridge Wells Puppetry Festival is;
• a professionally curated and delivered arts event for all ages, presenting highly skilled performances from the UK and overseas, in the beautiful Georgian spa town of Tunbridge Wells.
• actively introducing puppetry, theatre and animation to a new and diverse audience.
• bringing the community together through shared enjoyment of live performance.
• a forum for established and emerging professional artists.
• accessible to all.
And has become a highlight in the Tunbridge Wells cultural calendar.
'TWPF really is puppetry that feeds the soul. We loved it!'
Audience member 2019
The Tunbridge Wells Puppetry Festival was set up in 2014 as a Community Interest Company by Linda Lewis. The biennial festival celebrates innovative, world class puppetry in all its art forms for the people of Tunbridge Wells and surrounding areas. Linda was conscious to book many events which were free-to-attend and therefore accessible to all. The festival relies on funding, sponsorship, volunteers and support-in-kind to present exciting arts experiences for the local community.
The inaugural 2015 festival was incredibly well received, a new one-day arts event that included a special appearance by the magnificent Joey puppet from the National Theatre's international acclaimed production War Horse.
The second festival in 2017 built on the success of the first and included 2 days of shows, schools' workshops and Disney's The Lion King exhibition at Trinity Theatre.
The third festival in 2019 was on a larger scale over 3 days and broke all previous records. Welcoming 15 professional theatre companies from 5 different countries, presenting 22 different shows with 55 performances, 7 workshops and 1 exhibition. Over 3,000 people attended free outdoor events across the town and the festival attracted wide media and press coverage.
Following Linda Lewis' retirement at the end of 2020, Ailsa Molyneux and Alison Bundy were appointed as Joint Directors. Ailsa is also Director of Hever Festival Theatre and supported Linda on the 2017 TWPF. Alison is Head of Press and Marketing at Hever Festival Theatre. Ailsa and Alison felt it was important to continue to promote Linda's ethos with the majority of events free to attend in the 2021 festival.
The 2021 festival ran for over a week, towards the end of covid restrictions, in 10 venues throughout Tunbridge Wells town centre. The programme included the premier of Strangeface Theatre Company's Eli and the Golem, our first animation exhibition – Mock the Duck Studios by Astrid Goldsmith, the online project Unlocked with leading further education college students, an Aardman model making workshop and a full programme of puppetry shows live and online.
The festival also hosted Museum of the Moon by UK artist Luke Jerram, inspiring and connecting our community with puppetry, art, and our universe. Installed in Calverley Grounds the stunning spectacle 7m in diameter and featuring 120dpi detailed NASA imagery of the lunar surface provided the opportunity for audiences to see our Moon up close and floating  in 3 dimensions. This was a free event and over 15k people visited Museum of the Moon over the festival weekend.
'In all my 21 years on this earth, I've never had such a good Saturday night as tonight!'
A young man with his friends staring at Museum of the Moon
At the beginning of 2022 we were wondering how we would find the patience to wait until 2023 for the next Puppetry Festival. Tunbridge Wells deserves more we thought, so here we are in our 'in-between' year (we are after all a bi-annual festival) with a smaller than our usual festival, puppetry celebration.
Full of joy, imagination and a few strings, we are holding events in the Royal Victoria Place and Calverley Grounds.
A giant whale, massive isopod, beautiful mermaid, crazy parrot and a grumpy octopus are amongst the bumper-size fun for all the family to keep us entertained before the full festival returns in 2023. All events are free to attend.
As a festival we are particularly proud of our community outreach work. We have highlighted this work on our Community Work page here.
Feedback from the previous festivals;
'Beautiful performance and captivating for children. It's great to find a puppet show for toddlers.'
'My little one looked startled at how much mummy liked it!'
'It was spellbinding, we absolutely loved it!'
'Amazing, definitely would do again.'
'Fantastic free events bringing people together! Thank you.'
'Enjoyed the variety and the opportunity to see and do things we wouldn't normally.'
'Beautiful & poetic, fun for the whole family.'
'So different from watching TV!'
'Brilliantly done, everything was awesome.'
'Excellent-transported to a magical world.'
'Great fun for person with dementia.'
'Absolutely amazing!! My daughter's first performance, so special!'
'Completely unique- I've never seen anything on top of a van!'
'Lovely to see my little boy be mesmerised by the puppets.'
'Great shows. Loved the roaming performers that tied the performances together. Liked the town crier and the roaming animal puppets.'
'Top class as always. Fortunate to live nearby and have this on offer. We must keep this going for the future.'
'Loved that it happened. Just keep going and going…'