Volunteer with us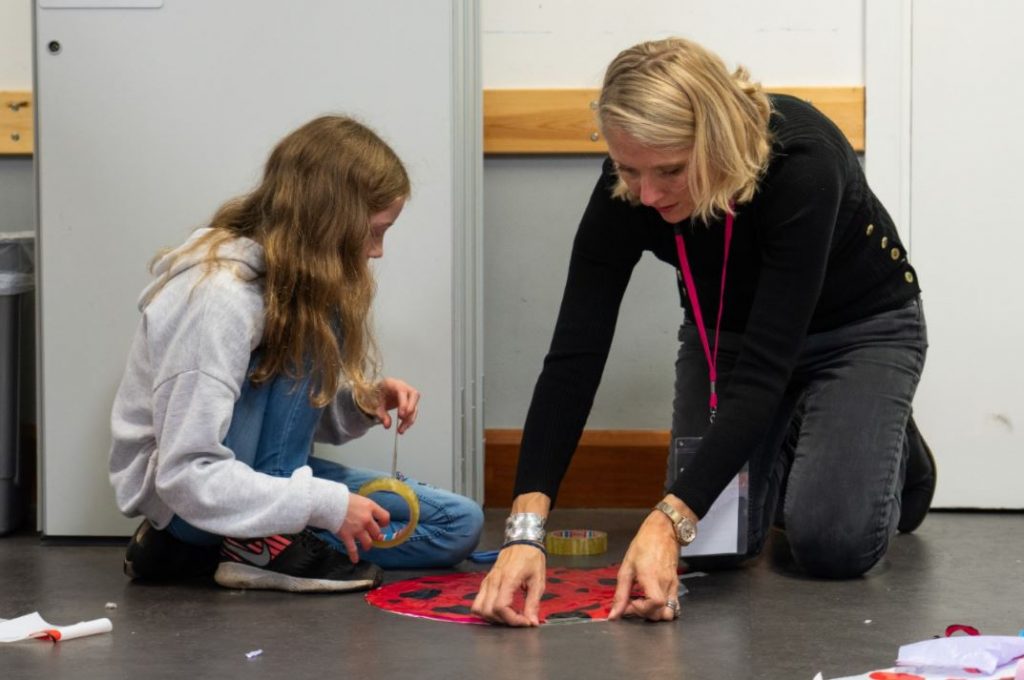 ---
Volunteer with us
We rely on support in many different ways to make Tunbridge Wells Puppetry Festival a success. Obviously buying your tickets is crucial but did you know we work with a fabulous team of volunteers? They are a highly valued group of puppetry festival and community enthusiasts who form the backbone to much of our work and we would love you to join them.
We welcome voluntary help in the following areas;
Leaflet distributers post our leaflets through the letter boxes of the houses in their street, the local library, churches, cafes in the town, anywhere they think the information will be well-received.
We have a lovely team of Front of House staff who work in venues throughout the festival. No experience is required, training is given and you get to be part of the festival team, our passion – and see shows for free!
Workshops in libraries and at local groups (where possible), offering readings of books to children related to our puppetry programme.
Social media supporters regularly comment and share the content on our social channels to help raise our profile and reach new audiences.
Everyone can volunteer, our youngest is 11 (accompanied by her Mum), our eldest is 83!
If you have the time and would be interested in joining us we would be delighted to hear from you.
Our Board of Trustees
This is an exciting time to join our proactive Board of Trustees.
We're looking for talented, experienced individuals to support Tunbridge Wells Puppetry Festival make a difference to the people who live and visit here.
We would welcome expressions of interest from people from any background that feels they have the skills, dedication and/or passion to keep the festival flourishing.
About the festival
The Tunbridge Wells Puppetry Festival is a family-friendly festival of world-class puppetry and theatre for the people of Tunbridge Wells and the South East. Our aim is to introduce puppetry theatre and animation to the local audience, with a focus on bringing the community together through shared enjoyment of live performance
About the organisation
The TWPF CIC is a not-for-profit Community Interest Company, with the single aim of delivering high quality puppetry to the residents, students and visitors of Tunbridge Wells. Previous festivals have secured enough funding which has enabled ticket prices to be kept low to ensure as broad a range of audience as possible, can benefit.
About the role
In this voluntary role, you'll play an instrumental role in driving success and growth. Our board provides overall governance and strategic guidance to TWPFCIC, ensuring that it continues to meet its aims, as well as complying with relevant legislation. As a Trustee, you will work closely with other Trustees and the festival Directors to act collectively and decisively, sharing responsibilities.
Commitment
Once appointed we ask you to:
● Attend our board meeting around four times per year, which usually takes place in the evening
● Attend our Annual General Meeting
● Be available on email, aprox. one hour of your time per week
● Prepare for meetings including reading relevant documents e.g. policies and proposals
We look forward to hearing from you
If you feel your experience and skills could be useful to our organisation then please get in touch, sending an expression of interest and what you could offer, a CV and references from at least 2 referees from a recent workplace either voluntary or professional, you can contact us here
The Festival's History
The Tunbridge Wells Puppetry Festival was set up in 2014 with the first festival in 2015 which was opened by Joey from the National Theatre's award winning show, War Horse. The festival played to over 2,000 people in the outdoor shows on the Pantiles and the majority of ticketed shows, especially those for children, played to full houses.
The second festival took place in 2017 and this time hosted an exhibition, workshops, and masterclass by the London production of The Lion King. This attracted considerable press and television coverage.
In 2019, with considerable support from our main funders KCC and ACE, as well as local businesses and sponsors, we brought 4 international puppet theatre companies to Tunbridge Wells. With 55 performances of 22 different shows, 7 workshops and 1 exhibition, the festival sold 1,000 tickets and had over 3,000 audiences for the outdoor shows. All but one of our indoor ticketed shows were sold out and there were queues at Trinity's box office for returns.
Tunbridge Wells has many successful and exciting arts venues and organisations e.g. The Assembly Hall Theatre, Trinity Theatre, The Forum, Applause Rural Touring and Strangeface Theatre company as well as many talented individuals.